ACCELERATING SAFE TEEN DRIVING THROUGH PARENTAL INCLUSION
Prepared by Michael Carpenter, MPA. October, 2019
Executive Summary
Automobile accidents represent the greatest threat to teenage drivers in the United States. The purpose of this white paper is to examine behaviors and trends among teen drivers and create awareness surrounding the issues posed by inexperience within the teen driver demographic. This research explores educational resources provided to newly permitted drivers through state regulated driver education programs, and contains a detailed examination into how modifications in curriculum delivery may influence accident rates among teen drivers. In addition to education, this white paper will look at behaviors that lead to distracted driving and how inexperience is a key marker when measuring the growing fatality rates among this population.
Contributing research has highlighted the need for parental involvement in the education of teen drivers as a means of creating a cohesive learning model. New mandates and strict state guidelines have produced an entire industry surrounding the education of young drivers, with many states requiring parents to outsource their child's education to a certified public or private educational institution. This outsourcing has created a void between parents, educators, and teens which has resulted in breakdowns associated with communication and collaboration between parents and educators. This lack of communication illustrates a significant, and perhaps the most crucial, challenge faced by students, parents and educators today.
This white paper aims to provide educators, administrators, and public officials with an in depth look at how emerging technologies, communication, and developing experience behind the wheel can create positive outcomes for teen drivers, families, and their respective communities. The concerns surrounding this and related issues have drawn federal attention from the Center for Disease Control (CDC), as well as other state and local agencies who are actively seeking solutions. For the purpose of this white paper we will specifically observe efforts made by the CDC and other state authorities to examine how these initiatives can be leveraged within driver education programs across the country. To best understand these challenges stakeholders must first understand what contributes to driving behavior patterns among teens, and how these behaviors can be addressed to create positive models of safe driving across this population.
Background & Challenges
Obtaining a driver's license is often viewed as a step towards adulthood and freedom by new teenage drivers. Teens, however, rarely examine facts and statistics surrounding their age demographic and automobile related accidents and fatalities. In fact, the rate of injury and death among teen populations resulting from automobile related incidents is the number one threat to teen safety in the United States, resulting in more than 2,400 deaths in 2016 alone (CDC Injury Center, 2018). The issue has become so widespread that it has drawn the attention of the CDC and Governors Highway Safety Administration (GHSA). The GHSA collaboratively developed the Graduated Driver Licensing (GDL) standardized program to assist new drivers gain necessary experience prior to obtaining their license.
The GDL guidelines provided by the GHSA consist of three stages students must follow during their driver education program. The first stage requires students to obtain a learner's permit which allows them to drive under the supervision of a licensed adult driver. The second stage of the GDL guidelines allows for teen drivers to drive independently without supervision. However, stage two is considered a provisional licensing period in which teens may not drive under certain conditions such as at night, or with passengers under the age of 18. Once these two stages have been completed successfully without incident the teen driver may then acquire a permanent unrestricted license. Each state has developed specific GDL guidelines designed to meet their local requirements and driving laws.
Meanwhile, the CDC has placed its efforts into the aggregation of statistical data to better inform parents, educators, and other stakeholders on concerns related to teen driving. The CDC and GHSA work in unison to leverage this information by creating community resources, and incorporating statistical and risk group data into driver education programs. To understand how these resources can best be utilized, parents and educators must first identify the specific challenges they face with their students and their driving behaviors.
Addressing Inexperience
With automobile accidents accounting for nearly a third of all deaths among the 16-19-year-old driver population, it is clear that more is needed to reverse this unfortunate pattern (Simons-Morton, Ehsani, Gershon, Klauer, & Dingus, 2017). Researchers and government officials alike have ultimately credited inexperience as a key component to these troubling statistics. However, inexperience among teen drivers comprises more than just the fact they have spent less time on the road that adult drivers. Inexperience among this population encompasses several behavioral markers and patterns relating to educational breakdowns, distracted driving, peer influence, and perhaps most importantly, parental involvement in the driver education process. Steps must be taken by parents, educators, and public officials to collaboratively address these challenges individually in order to curb negative behaviors among the teen driver population.
Educational Breakdowns
Understanding educational barriers relating to improving student engagement is key to creating awareness among young drivers, and ensuring students understand necessary rules and concepts associated with safe driving. Engaging students with real world problems and project-based learning approaches to meet these needs is a primary practice used by educators in traditional classroom environments (Pérez, 2014). However, this methodology is not frequently executed in GDL approved driver education programs, as they tend to focus on hypothetical situations, laws, and general rules of the road. Theoretical assumptions are made when educators and GDL guidelines dictate the role of the parent when facilitating practice drives with their teen throughout the educational process.
Parents however, are often not prepared to facilitate these practice exercises due to communication breakdowns and time constraints resulting from the busy lives we live today. This leads to educational failures for the student because drivers do not always react to situations in the same manner leading parents to teach a concept one way, and educators to teach another. Better preparing parents with instructional guides to the students learning, and clear communication regarding the curriculum being delivered helps all parties reinforce positive driving behaviors among teens.
Another method commonly utilized by educators to engage students is through the use of technology in the classroom. However, this approach is often overlooked as a means of delivering driver education due to lack of fiscal resources and uncertainty in how to implement technology into existing instruction models. Though, a recent initiative by the CDC is placing more emphasis on incorporating technology-based resources for parents and educators in an attempt to close gaps in the collective planning of driver education. Through this CDC initiative, titled "Parents Are They Key", parents have access to driving guides, educational videos, teen driving agreements, and event planners to better assist in promoting parental and student engagement (CDC Injury Center, 2016). Meanwhile, private organizations are also lending a hand in developing new safety and learning technologies to further promote positive behaviors among teen drivers.
Distracted Teen Driving & Peer Influence
Recent studies conducted in the state of California concluded that teen drivers were rarely convicted of infractions relating to GDL guidelines, however, of those violations that were recorded, passenger limitations and nighttime violations were most prevalent (Masten, Chapman, Atkinson, & Browning, 2014). This in combination with other common distractions such as the use of electronic devices while driving demonstrates behavior patterns that must be addressed by both parents and educators. Many state and local governments have attempted to deal with these concerns by drafting legislation focusing on creating new provisions within GDL guidelines and increasing the penalties for GDL related infractions. However, emerging research indicates that implementing parental interventions that aim to utilize social norms as a means of reducing poor behavior led to the adoption of more positive behaviors by drivers within the teen demographic (Merrikhpour & Donmez, 2017). Social norms in this context relate to driving behaviors demonstrated by parents or role models which then become mimicked behaviors carried out by adolescent drivers.
Peer influences also affect the development of socially normative behaviors, and frequently contribute to more negative behaviors rather than positive ones (Figure 1). Communication between educators and parents is the most effective means of correcting peer influenced behaviors by engaging student drivers and providing cohesive post-drive feedback. When educators and parents are providing identical information, it builds a stronger opportunity for trust that the information is correct, relevant, and should be adhered to by the student. Communication between educators and parents is crucial to ensuring plans are in place to better guide parents through at home practice scenarios, as well as helping parents to understand their own behaviors when driving with their teen.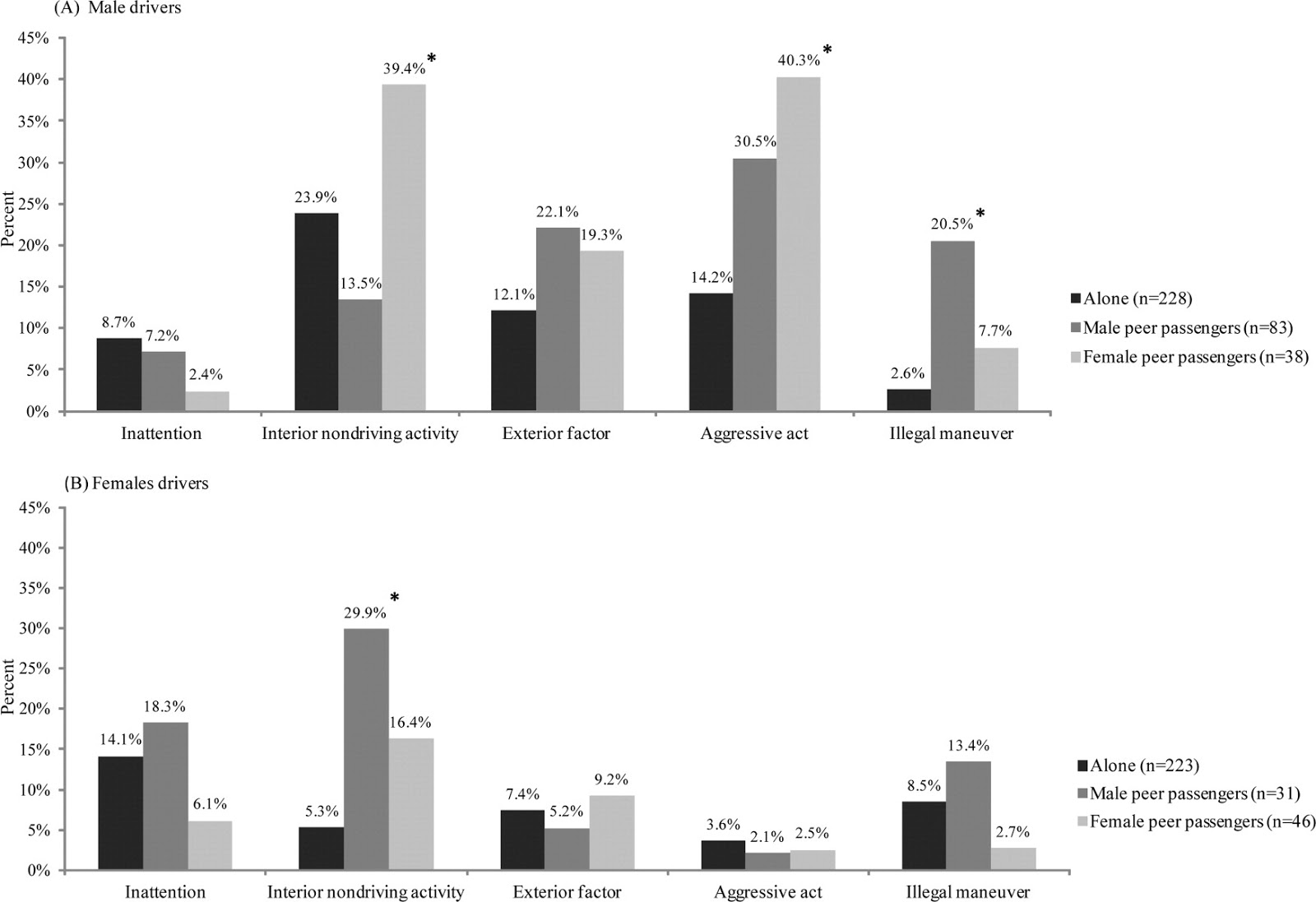 Figure 1. Occurrences of teen crash-associated factors, by driver–passenger gender amalgamations. * 95% CI shows statistical significance at α level of .05 when compared with driving alone (Curry, Mirman, Kallan, Winston, & Durbin, 2012).
Parental Involvement
It is crucial that parents become aware of their own patterns and driving behaviors to ensure they are demonstrating the appropriate attitude and etiquette while driving and teaching their student. To accomplish this, parents must be included in the education process, and be provided resources by the educating institution to better understand the curriculum, academic calendar, and their role in the education of their child. Research findings show that parents who reflect on their own behaviors prior to their teen getting their permit and attending a driver education program attain greater success when teaching their student positive driving behaviors (Ben-Ari, Kaplan, Lotan, & Prato, 2015). This is due, in part, to a gradual increase in interest by the student as they approach driving age, as teens tend to pay more attention to their parents driving styles and behaviors during this time.
Parents often place too much responsibility for their child's education on educators and public programs and do not fully understand how their participation can impact their teen's performance both academically and in the mastery of other disciplines such as driving. Parents and educators should collaboratively develop driving guidelines for students prior to the commencement of a driver education program to proactively ensure students understand expectations. This may consist of a student driver agreement or contract which outlines the rules that the student must follow in order to maintain access to a vehicle. Items included in these agreements may focus on keeping up with schoolwork, achieving certain academic benchmarks, meeting curfews, participation in specific family and educational activities, or completing additional safe driving courses. Parents are vital to the administration of such agreements and ensuring their teen develops positive behaviors before, during, and after their driver education program.
Current Initiatives & Solutions
With so many initiatives at the state and local levels, it is important to know which resources will best serve parents, educators and public officials. It is clear the GHSA has taken positive steps in the regulation and supervision of teen drivers through various GDL programs across the country. GDL guidelines established national benchmarks that have been adopted to some extent by every state. What GDL is lacking however is a clearly defined approach to engage parents in their teen's driver education program. Parental involvement is critical to developing responsible patterns of behavior among adolescent drivers and is paramount to creating an environment of safe driving within the community.
The CDC's "Parents Are The Key" initiative aims to address this gap by providing resources to both parents and teachers across the country. Although the GDL programs provided by the GHSA have proven successful in reducing occurrences of automobile related injuries and deaths among teens, it is still not enough. The CDC expanded its efforts to educate parents after 2,433 teen fatalities, and 292,742 injuries were reported in 2016 which represented approximately $13.6 billion in medical expenses among the teenage population (CDC Injury Center, 2018). The CDC in recent years has grown the "Parents Are The Key" initiative to include pediatricians and local leaders and charities in an attempt to generate a sense of urgency within local communities.
Public Interventions
The CDC provides parents and educators resources on how to address 8 teen driving topics that they consider to be the most impactful in reducing teen driving fatalities and injury. The eight key danger areas discussed by the CDC are: inexperience, teen passengers, nighttime driving, seat belts and safety equipment, distracted driving, drowsy driving, reckless driving, and impaired driving (CDC Injury Center, 2016). Additionally, the initiative provides ideas for parents to engage their student in discussion about the risks associated with inexperience and allows parents to print materials such as parent-student driving agreements.
Pediatricians and medical professional are also encouraged to assist in education at both the patient, and community level through community educational events, CPR training programs, and their respective websites. Many pediatricians and primary care physicians have adopted this approach to proactive education. Studies have found that the majority of parents are receptive to recommendations by their doctor on how to discuss these issues with their teen (Ford, et al., 2016). Pediatricians are a valuable partner for both parents and families in discussing issues relating to health and wellness, and including them in conversations relating to safe teen driving may prove beneficial for parents. In addition, the CDC has taken steps to include community leaders from a variety of areas across society to help develop a community culture of safety and thinking beyond one's self and family. The initiative seeks to include the community in the discussion by demonstrating how accidents affect the community as a whole, and aims to include religious leaders, public administrators, philanthropists, and business leaders to help instill this message.
Private Interventions
Teen driver safety efforts have also been adopted in the private sector with many entrepreneurs and corporations hopeful that technology can solve the problem. Today we often see devices that can be plugged in to a vehicle on-board diagnostics port (OBDII) to track various aspects of vehicle operation to include airbag deployment, speed, and the location of the vehicle. Other approaches to improving safety focus on vehicle features and accessories designed to ensure seat belts are worn or to restrict the vehicle from exceeding a certain speed. These methods, while helpful, are often missing a key component of education and developing responsible behaviors.
The fact is that most teens today are more technologically savvy than the average parent, and may be aware of these technologies and how to bypass their features. Education can be viewed in a similar fashion, as many young drivers who become involved in accidents were aware that actions leading up to the accident were unsafe. Behaviors, however, are more difficult to ignore and are more likely to create safe responses in unsafe situations. Therefore, understanding how education and technology can contribute to, and reinforce these positive behaviors is paramount to identifying meaningful solutions to the issues surrounding safe teen driving.
Parents Are They Key LLC., a private company adopting its name from the CDC initiative designed to facilitate the education of parents, educators, and community leaders is at the forefront of this effort to integrate technology resources to build experience and positive driving behaviors among student drivers. Utilizing a mobile application called Drive3D, student drivers, parents and educators can collaboratively teach, measure and enforce positive driving behaviors and create plans for teens to effectively develop driving experience. They are accomplishing this by providing educators with supplemental curriculum delivery tools that not only monitor student academic performance, but also measures data around a student at home practice drives with their parents.
The application specifically focuses on empowering parents in their teen's education process, and provides tools to educators to ensure students are actively engaging with the materials and completing training hours with their parent or guardian. Educators can also leverage these tools to educate parents and promote ongoing conversations regarding behavioral patterns demonstrated by the teen to allow for earlier corrective actions. While many tools exist to facilitate driver safety, there are few tools that proactively engage parents and teachers to establish and reinforce positive behaviors among this population.
Although, some educators are hesitant to explore technology platforms for use with a driver education program, the makers of the Drive3D application have taken systematic precautions to ensure that parents are the only party able to utilize the application during a proactive driving session. This ensures that student drivers remain focused on the road, while allowing parents and educators to track measure and communicate drive performance while maintaining safe driving guidelines while on the road. Though no solution exists that will guarantee safe teen driving within our communities, emerging resources that seek to promote collaboration and communication among parents and teachers as a means of engaging students is a much-needed step in the right direction for educators.
Bringing Safety Into Focus
Educators play a unique role in facilitating and influencing safe teen driving throughout a student's educational experience. To create a truly successful driver education program that embodies all of the strategies' necessary to improving student driver safety, educators must go beyond the traditional education model and include parents in their teen's driver education. Public education holds a considerable advantage in this regard due to the existing relationship they maintain with parents and students in the overall administration of their core education. Additionally, public schools tend to have greater resources than private driver education programs, and are better equip to combat the challenges associated with teen driving. Public schools have the ability to incorporate parental involvement prior to a student's enrollment in a driver education course. This would allow educators to engage parents early on and allow time for parents to better understand their student's curriculum, assess their own driving behaviors, and create opportunities to demonstrate positive driving examples to their child.
The vast majority of parents are willing to play a larger role in their child's driver education when they fully understand outcome variables of being an active participant versus acting in a more passive capacity. Educators can drive this engagement by providing a road map to the education process through the use of learning guides that educate parents on proper techniques their students will be learning and when to incorporate these techniques into at home practice drives. Additionally, open communication must be adopted to ensure parents fully understand the directions being provided, to create meaningful dialog on performance, and communicate behavioral characteristics and patterns of their teens driving behaviors. Many schools, both public and private, have instituted pre-course parent meetings to communicate information relating to their student driving program. This is a great opportunity for parents to receive general information, however, specific attention is required to provide a more detailed analysis of a student's performance and allows parents to be informed on the individual needs of their teen. This inclusion of parents in the education process, however, requires a commitment from educators to facilitate the education of both students and parents to improve driving safety for the student and the community.
Conclusion
Although accident rates among teen drivers between the ages of 15-19 have seen an overall decline since 2007, data shows that teens are twice as likely as an adult to be killed in an automobile accident ("National Highway Traffic Safety Administration", 2019). Educators and parents must come together to collaboratively engage their teenage driver by strengthening communication, exploring resources, and addressing behavioral challenges to promote safe driving within the teen population. Early intervention planning prior to a student's enrollment within a driver education program can significantly impact the behaviors adopted by students' drivers, and utilizing governmental resources and third-party technology-based learning tools such as Drive3D to address these behaviors and patterns among adolescent drivers may improve safe driving outcomes for the community as a whole.
The CDC and private organizations like Drive3D are leading the way in providing parents and educators, the resources, data, and support they need to combat these challenges within local communities. Educators must ensure that parents are aware of these resources, and understand how they can be leveraged to improve responsible driving with their teen. These organizations and others have demonstrated a commitment to leveraging data as a means to educate the population in regards to how distracted driving, impaired driving, and other forms of irresponsible driving behaviors impact the community as a whole outside of the traditional view of the individual and family. However, governmental initiatives like the CDC's "Parents Are The Key" program will only continue receiving funding if it is utilized at a broad scale, and provides measurable results to educators and families. Educators not currently utilizing this and other governmental and private programs should discuss these programs with their administration leadership to determine appropriate means for incorporating these education tools into their institutions as well as providing these resources to parents.
Endnotes
CDC Injury Center. (2018, October 19). Teen Drivers: Get the Facts | Motor Vehicle Safety. Retrieved from https://www.cdc.gov/motorvehiclesafety/teen_drivers/teendrivers_factsheet.html
CDC Injury Center. (2016, October 14). Eight Danger Zones | Parents Are the Key. Retrieved from https://www.cdc.gov/parentsarethekey/danger/index.html
Currin, A. (2019, July 23). National Highway Traffic Safety Administration. Retrieved from https://www.nhtsa.gov/road-safety/teen-driving#topic-parental-influence
Curry, A., Mirman, J., Kallan, M., Winston, F., & Durbin, D. (2012). Peer Passengers: How Do They Affect Teen Crashes? Journal of Adolescent Health, 50(6), 588–594. https://doi.org/10.1016/j.jadohealth.2011.10.016
Ford, C., Cheek, C., Culhane, J., Fishman, J., Mathew, L., Salek, E., … Jaccard, J. (2016). Parent and Adolescent Interest in Receiving Adolescent Health Communication Information From Primary Care Clinicians. Journal of Adolescent Health, 59(2), 154–161. https://doi.org/10.1016/j.jadohealth.2016.03.001
Masten, S. V., Chapman, E. A., Atkinson, D. B., & Browning, K. K. (2014). Non-compliance with graduated driver licensing (GDL) requirements: Changes in GDL-related conviction rates over time among 16–17-year-old California drivers. Accident Analysis & Prevention, 72, 230–243. https://doi: 10.1016/j.aap.2014.07.008
Merrikhpour, M., & Donmez, B. (2017). Designing feedback to mitigate teen distracted driving: A social norms approach. Accident Analysis and Prevention, 104, 185–194. https://doi.org/10.1016/j.aap.2017.04.016
Pérez, A. (2014). Characterization of Inclusive Practices in Schools with Education Technology. Procedia - Social and Behavioral Sciences, 132(C), 357–363. https://doi.org/10.1016/j.sbspro.2014.04.322
Simons-Morton, B., Ehsani, J., Gershon, P., Klauer, S., & Dingus, T. (2017). Teen Driving Risk and Prevention: Naturalistic Driving Research Contributions and Challenges. Safety, 3(4), 29. https://doi: 10.3390/safety3040029
Taubman – Ben-Ari, O., Kaplan, S., Lotan, T., & Prato, C. (2015). Parents' and peers' contribution to risky driving of male teen drivers. Accident Analysis and Prevention, 78, 81–86. https://doi.org/10.1016/j.aap.2015.02.020
Copyright © 2019. All rights reserved, including rights of reproduction and use in any form or by any means, including the making of copies by any photographic process, or by any electrical or mechanical device, printed, written, or oral or recording for sound or visual reproduction, or for use in any knowledge or retrieval system or device, unless permission in writing is obtained from Parents Are The Key, LLC. Please direct permission requests to Rick Goode at rick@parentsarethekey.com.